STELLA MUSICA
"Music is your own experience, your thoughts, your wisdom. If you don't live it, it won't come out of your horn", said Charlie Parker. As the world begins to open up after a long winter of isolation, the experience of being in attendance at the Stella Musica Festival at Le Gesu was not only to rediscover the potency of a shared evening at the theatre, but to be reminded what such experiences can do for the listener if the music comes from a genuine place.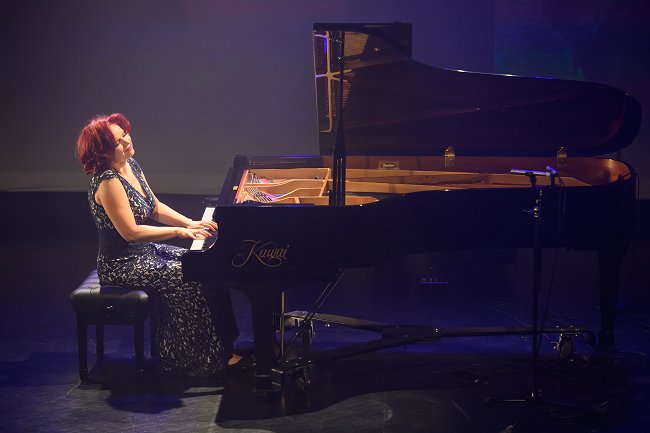 Pianist, founder and artistic director Katarzyna Musial and company (pianists Andrea Van Pelt, harpsichordist Katelyn Clark and the astounding soprano Kirsten LeBlanc of L'Opera de Montreal Atelier lyrique) play with such infectious energy and passion, drawing the audience into a sense of falling in love with music, as if it were the first time they were hearing it, greatly benefitting from the intimacy of the setting. It is stirring to be inspire by the graceful beauty of such music, to mark the beginning of a time when we can gather more freely, as we have all been challenged both from within and without over the past year. It must be that the performers were equally forlorn in their desire to once again have a live audience, and it clearly showed that they wasted no time during the past year in retaining and bettering their considerable talents.
The festival's second and final performance was a Grand Concert, hosted by soprano Nathalie Choquette dedicated to the memory of the Honourable Anne-Marie Trahan, former judge at the Quebec Superior Court and ambassador of the Festival's first five editions. The Grand Concert featured an exceptional mixture of baroque, classical, and contemporary flamenco works performed by Ms. Musial with Hanser Santos Gomez (cajón / percussions), as well as moving performances by France Bellemare (soprano) accompanied by Dominic Boulianne on piano, Marie Nadeau-Tremblay (violin) and Les Barocudas ensemble performing works from her recent album La Peste.
The festival commiserated on the motif of female empowerment in the arts, and so on the first evening of the festival a panel discussion was held on the theme of "Women in Leadership during the COVID-19 era". Moderated by Chantal Lambert, Director of the Atelier lyrique de l'Opéra de Montréal, the panelists (Nathalie Maillé, Executive Director of the Conseil des arts de Montréal and Dani?le LeBlanc, Executive and Artistic Director of the Jeunesses Musicales Canada) offered reflections and narratives of their experiences coming from artistic backgrounds, rising to positions of leadership in traditionally-male dominated fields, the growth that has come in their journeys, and the importance of encouraging diversity in the midst of the societal shift that we are experiencing. They also spoke of the challenges they have encountered evolving and acclimating to new realities during the pandemic, and the ennobling experience of adapting while being challenged. As the speakers and performers demonstrated, such demands can produce great beauty.

Benjamin Dooley
Photo: Agnieszka Stalkoper



For those unable to attend, the concerts will be available online until June 19th at:
https://www.legesu.com/evenement/festival-stella-musica-virtuel-2/
For more information on shows & dates, please visit: www.stellamusica.org